Yarm Fair 2023 is set to be a thrilling event for all ages, with a variety of rides, attractions, and food stalls to enjoy.
The fair is a centuries-old tradition, dating back to 1207 when King John granted the Lord of Skelton the right to hold a weekly market and two annual fairs. The fair has grown over the years, and is now one of the largest and most popular fairs in the North East of England.
Yarm Fair Dates
The fair will take place on Yarm High Street from Thursday, 19th October to Saturday, 21st October 2023.
Yarm Fair 2023 Rides & Attractions
Visitors to Yarm Fair 2023 can expect to find a wide range of rides and attractions to enjoy, including:
Thrill rides such as the Crazy Frog, Star Flyer, and Extreme
Family-friendly rides such as the Waltzers, Dodgems, and Ghost Train
Children's rides such as the Merry-Go-Round, Teacups, and Carousel
Food stalls selling all the classic fairground grub, such as candy floss, burgers, hot dogs, and chips
Game stalls where you can win prizes
Stalls selling souvenirs and other goods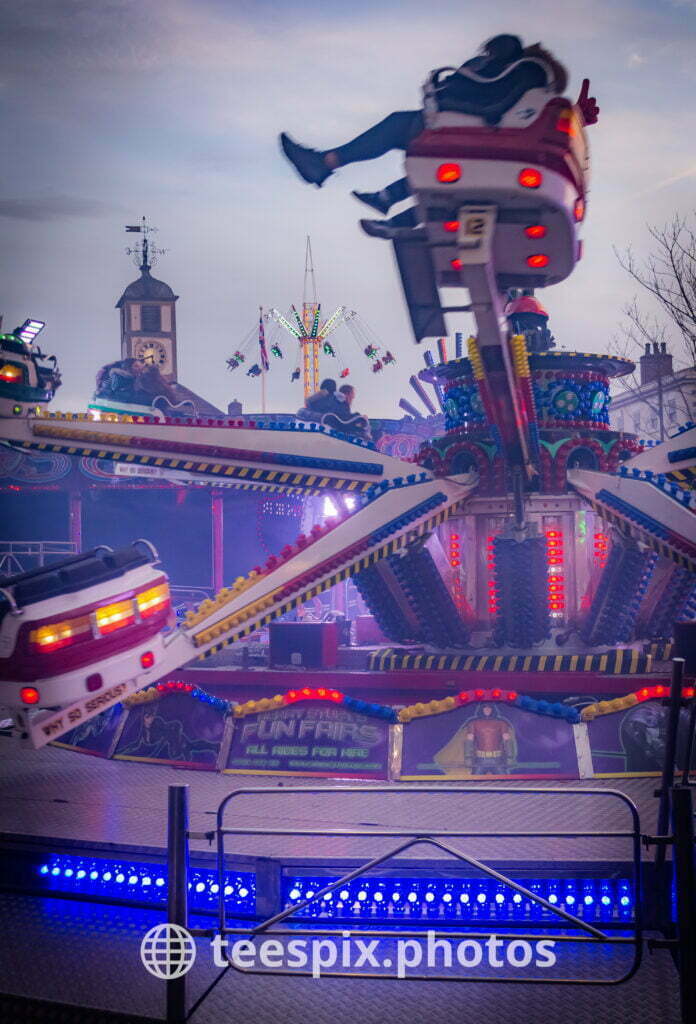 Yarm Fair Ceremonies & Traditions
In addition to the rides and attractions, Yarm Fair 2023 will also feature a number of other events and activities, including:
The Blessing & Riding of the fair, a ceremony where the charter is read out and the fair is blessed by the local clergy. This takes place at 12noon at the Dodgems near the Yarm Town Hall.
The flashings, a tradition where horses trot up and down High Street which was historically to show off horses that were for sale.
Yarm Fair Opening Times
The fair runs 6pm to 10pm Thursday & Friday, and 1pm to 10pm on Saturday. The traditional Riding of the Fair and Flashings take place from 12PM on Saturday.
Yarm Fair Prices
The prices for rides at Yarm Fair vary, but are typically between £2 and £5 depending on the weather, and the ride. If you were to budget around £25 to £35 you would be able to have an enjoyable time on the rides, stalls, and have some fairground food.
Yarm Fair Parking
There is no parking on the High Street during Yarm Fair, which is closed to traffic. Typically people park on the roads leading to Yarm, but please park considerately for the residents who live on these roads. The long stay car park on West Street will have a limited amount of parking.
Tips for visiting Yarm Fair 2023
Yarm Fair is a great day out for all the family, and is sure to provide something for everyone to enjoy. Here are a few tips for making the most of your visit:
Plan your visit in advance. Find out what rides and attractions will be available, and to check about any special events or activities that are taking place.
Arrive early. The fair can get very busy, especially on the Saturday. Arriving early will give you a chance to beat the crowds and get on all of your favorite rides.
Wear comfortable shoes. You'll be doing a lot of walking at Yarm Fair, so make sure to wear comfortable shoes.
Bring cash. Many of the rides and stalls at Yarm Fair only accept cash.
Take advantage of the family offers. Many of the rides and attractions offer family discounts, so be sure to ask about them.
Have fun! Yarm Fair is a great day out for all the family, so relax and enjoy yourself.

Here are some additional tips for visiting Yarm Fair 2023:
If you're traveling to the fair by car, be aware that there will be road closures in place. The High Street will be closed to traffic from 6pm-10pm from Thursday-Friday, and 12noon to 10pm on Saturday.
There is no car parking available, so if possible use public transport.
The fair is wheelchair accessible and there are accessible toilets available – there may however been accessibility restrictions for some rides.
If you have any questions or concerns, please don't hesitate to ask a member of fair staff.
Yarm Fair 2023 is shaping up to be a thrilling event for all ages. With a variety of rides, attractions, and food stalls to enjoy, there is something for everyone at Yarm Fair. So mark your calendars and get ready for a fun-filled day out!
Related Products